Stop by and discover the professional quality and attention to detail that makes Dirty Dog's a serious cut above the competition.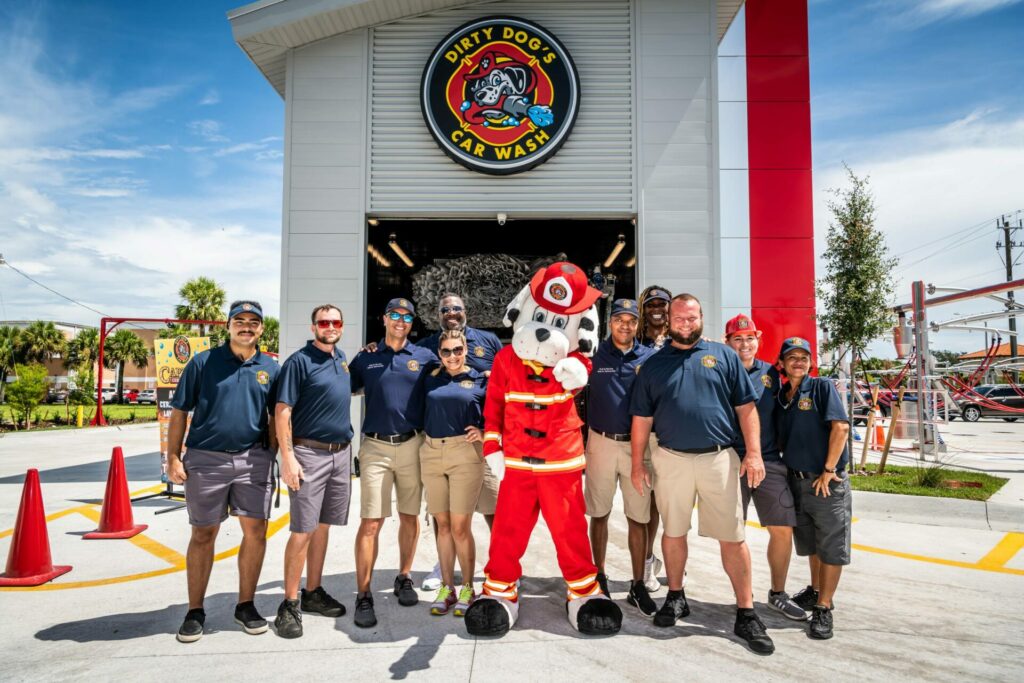 Multiple Lanes Always Open

Multiple lane pay system with digital kiosks to get you in and out quickly

A Personal Touch

Every car that goes through our wash is first treated and scrubbed by us. This gives the opportunity to make sure that each car is prepped to be as clean as possible before going through the wash

40-Horsepower Vacuum

Powerful vaccuums with specialized, do-it-all nozzles.

Concierge Service

Need some help? A Dirty Dog's Concierge will walk through our car washing packages & select the best for your vehicle.
Choose from a variety of Wash Packages and Unlimited Wash Memberships to fit your needs.
Join the
Unlimited Wash Plan

for Amazing Perks!
This is the best all around. Equipment very well maintained. Personal are ALWAYS friendly and quick to offer help,the lint free detail clothes they provide as a courtesy are always available,the place is almost spotless or about to be because someone can be seen cleaning constantly. I love the air gun and the window cleaner sprayer. The vacuums are serious business.,you will not want to get it closer to anything that you don't want to be sucked up really!!! It was removing sand from a beach trip from a few.ywars ago. Great place!!
Equipment very well maintained
Customer Service is phenomenal and the wash experience itself is great! Competitive prices with other local car washes. So far, I'm enjoying Dirty Dog's more than the others. Also, anything that supports First Responders is a plus in my book.
Customer Service is phenomenal
I've used a lot of drive through car washes however Dirty Dog's hands down the best car wash I've received in a very long time. From the time I pulled up, I was greeted and helped by an attendee. After paying, the 2 gentleman who hand washed my car before going into the drive through did a phenomenal detail washed, they scrubbed all the dirt off. By far the best service, well organized, quick, and clean. I will definitely be coming more often.
By far the best service, well organized, quick, and clean
Very powerful and easy-to-use vacuums. The car wash was a little longer than the other car wash places in my area. This car wash does a great job! My rims were actually clean. Very impressed with the car wash. Very nice staff. I would recommend this to friends. I will definitely go again.
Very powerful and easy-to-use vacuums
4 Alarm Graphene
4 Alarm Graphene
360 Prep
Captain's Ceramic
Lava Shield
Wheel Polish
Prime Low PH Conditioner
Buff and Shine*
Rain Repel
Hot Wax
Tire Shine
Triple Foam
Undercarriage
Bug Prep
Heat and Blow Dry
Unlimited Captain's Ceramic Coating
Captain's Ceramic
Lava Shield
Wheel Polish
Prime Low PH Conditioner
Buff and Shine*
Rain Repel
Hot Wax
Tire Shine
Triple Foam
Undercarriage
Bug Prep
Heat and Blow Dry
Unlimited Helping Heroes
Prime Low PH Conditioner
Buff and Shine*
Rain Repel
Hot Wax
Tire Shine
Triple Foam
Undercarriage
Bug Prep
Heat and Blow Dry
Unlimited Rookie
Undercarriage
Bug Prep
Heat and Blow Dry